GB1BOB
is to remember the Battle of Britain which took place between 10th July and 31st October 1940.
The Royal Air Force (RAF) and the Fleet Air Arm (FAA) of the Royal Navy defended the United Kingdom (UK) against large-scale attacks by Nazi Germany's air force, the Luftwaffe. Nationalities flying under the UK flag included Polish, New Zealanders, Canadians, Czechoslovaks, Irish, Australians, Belgians, South Africans, French, Americans, Southern Rhodesians and individuals from Jamaica and Barbados.
Battle of Britain day is usually observed on the 15th September within the UK and the third Sunday in September within the Commonwealth.The nearest RAF airfield to our location that was a participant in the Battle of Britain was RAF Exeter which was part of 10 Group. Squadrons stationed at RAF Exeter over the period were 213 squadron, 87 squadron and 601 squadron. RAF Exeter was attacked by the Luftwaffe during this period. The airport continues to operate at the current time as a commercial airport.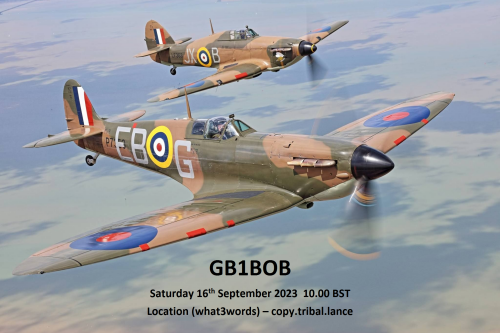 GB4BCR
Will be on air as part of the Railways On The Air event, this will be our 8th year taking part in the event. This is organized by Bishop Auckland Radio Amateur Club. Full details about the event including participating stations and their mapped location can be found at https://rota.barac.org.uk/ .
GB4BCR will be run from close to the Babbacombe Cliff Railway which is a funicular railway which runs 220m (720ft) joining Babbacombe Downs to Oddicombe Beach. It first ran in April 1926 and is currently operated by a Charitable Incorporated Organisation. Full details can be found here https://www.babbacombecliffrailway.co.uk/
Please click on the document to enlarge it